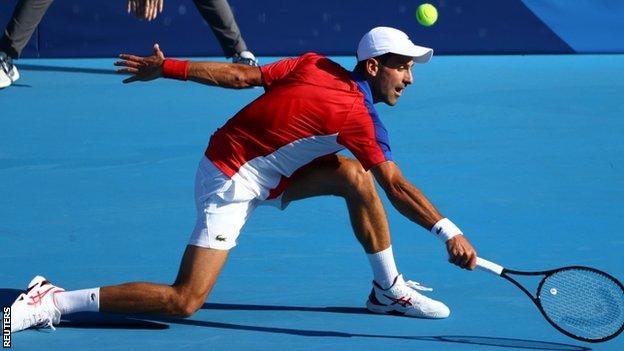 Dates:
23 July-8 August
Time in Tokyo:
BST +8
Coverage:
Watch live on BBC TV, BBC iPlayer, BBC Red Button and online; Listen on BBC Radio 5 Live, Sports Extra and Sounds; live text and video clips on BBC Sport website and app.
Novak Djokovic and Daniil Medvedev have called for Olympic organisers to change the tennis schedule because of the sweltering conditions players said were the "toughest" they had experienced.
World number one Djokovic, who launched his bid for gold with a quick first-round win, said matches should be pushed back to later in the day.
"I don't understand why they don't start matches at, say, 3pm," he said.
"We still have seven hours to play. They have lights on all the courts."
The Serb, who beat Bolivia's Hugo Dellien 6-2 6-2 in his opening match, said the conditions meant that players were "constantly dehydrated".
"You feel you have weights on your shoulders because there's so much heat and humidity and stagnated air," the 34-year-old said.
"You don't feel yourself, you feel slow with your legs. It's not the first time we get to experience tough conditions. I spoke to a couple of guys in the locker room and all of them said this is the toughest that they have experienced day to day.
"I don't really get why ITF [the International Tennis Federation] doesn't want to move the matches."
The world governing body said in a statement that "player health is paramount".
It added: "Great consideration has been given to the 11am or a later start. The decision to retain 11am was made based on data, a nine-day event and to accommodate factors such as local authority restrictions due to Covid-19 and the unpredictability of the weather.
"Extreme conditions will always put pressure on a schedule and make an optimum schedule challenging. Rainfall is as much of an issue as extreme heat. An Extreme Weather Policy is in place. Tokyo 2020 competition officials have set procedures to monitor the heat stress index which determine whether play should be modified and have implemented these procedures today."
World number two Medvedev, 25, also called for a rethink on scheduling, suggesting a 6pm start, and added it was a "joke" that players were allowed only one minute at changeovers rather than the usual 90 seconds.
The Russian played his first-round match – which he won 6-4 7-6 (10-8) against Kazakhstan's Alexander Bublik – in the middle of the day when the temperature at Ariake Tennis Park reached 32C.
The conditions were "some of the worst" he had experienced, he said.
Medvedev's compatriot Anastasia Pavlyuchenkova, 30, had to take a medical timeout during her match when she started to feel dizzy in the blazing sun.
"I feel better but I have a massive headache now so that's why I was trying to try to cool down after the match and rest, relax little bit," said Pavlyuchenkova, who cooled herself with ice bags before completing a 6-0 6-1 win over Italian Sara Errani.
With the Games having officially opened less than 24 hours ago, the weather has become one of the big talking points at Tokyo 2020.
On Friday, Russian archer Svetlana Gomboeva fainted in intense heat during her qualifying competition and the rowing schedule was changed because of concerns over an approaching typhoon.
But not everyone is concerned about the negative aspect of the weather, with surfers expected to benefit from bigger waves when their competition gets under way on Sunday.
When the Olympic Games were last held in Tokyo, in 1964, they were pushed back to autumn to avoid high temperatures.
This time around, the marathon and race-walking events have been moved to the cooler city of Sapporo, while a range of other measures, including mist-spraying stations for Olympic horses and cooling vests for referees, have been employed to help reduce the risks to athletes.
Earlier this week, experts said Tokyo's heat and humidity could pose a significant threat to competitors, and the Japanese Environment Agency has issued heatstroke alerts, warning the public not to exercise outside.




Sourced from BBC Sports